Latest in
---
Nine high school students captured while calling for commemorating the Mohamed Mahmoud clashes
---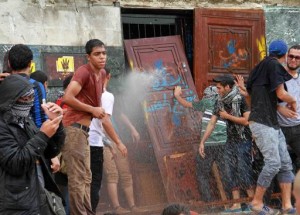 Public prosecution authorises security forces' entrance to campus after students storm administrative building
---
Security on high alert at Cairo University
---
Students against Coup movement issue a statement promising "the end of putchists at their hands"
---
City witnesses clashes after Morsi supporters protest "coup"
---
Fighting continues following Islamist rally, leaving one dead, despite president's speech
---
Muslim Brotherhood and opposition exchange blame, deny responsibility
---
---
Officials to be tried for involvement in food poisoning of hundreds of students
---
Report comes after 150 students suffered food poisoning
---
Food poisoning incident occurs at Zagazig University
---
Members forced to sign a document ratifying that they will no longer distribute campaign applications
---
Like every day, she wakes up at the break of dawn. Sending her children off to school, she heads off to her new job in the city of Zagazig, the capital of Sharqeya governorate.
---
Angry protesters clash with Muslim Brotherhood supporters, Central Security Forces in Mahalla and Zagazig
---
---
Public universities in Egypt are institutions with multi-layered corruption from sexual harassment to nepotism. The Daily News Egypt was intrigued by a recent corruption case in Ain Shams University to look into the different forms of corruption directed at students at public universities. Students recount their experiences with corruption and what they think the solutions are.
---
Protesters face violence by security forces, FJP members and unidentified assailants
---
End of Section