Latest in
---
The president met with disabled protesters, media representatives and religious figures
---
Women's group and Abul Fotouh's new party reject draft document
---
Protesters impatient to have their demands met
---
The Iranian official said exchanging agricultural products will be the start of improved relations between Iran and Egypt.
---
Bahrain's Revolution and President Morsy
---
Four companies are competing for a contract of Egyptian Steel's plant in Ein Sokhna. The bidding companies are Orascom Construction Industries (OCI), Petrojet, Hassan Allam Sons and SIAC, chairman of Egyptian Steel, Ahmed Abou Hashima, said on Wednesday. The winner of the EGP 220 million bid will be announced within the coming two weeks, said …
---
Teen released after serving three-quarters of military sentence.
---
---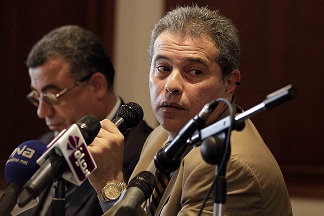 Thirty cases have been filed against the controversial television host.
---
A day after a crackdown against protesters with disabilities, the minister of interior met with representatives of people with disabilities.
---
by Naser Al-Azazy Sinai Bedouins met with security officials on Saturday to discuss sentences handed down to Sinai residents in absentia under the Mubarak regime. The group met in a village near the Al-Halal mountains, North Sinai. The conference was organised by the Popular Commission to Defend the People of Sinai and was attended by …
---
End of Section