Latest in
---
Portfolio flows to EM stood at $30.7bn in December, significantly higher than November's $19.9bn
---
Region needs to pursue deeper reforms to strengthen business climate, improve competitiveness, says IIF
---
State's household debt to GDP remains unchanged at 7.1% in 2Q of 2019, says report
---
EM securities attracted $22.5bn in October, says IIF
---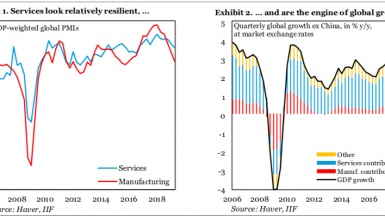 In its latest report, the IIF stated that it continues to have a relatively positive view on the global economy.
---
The IIF works in a sample of 25 past IMF programmes in developed, emerging, and frontier markets that started with debt to GDP ratios above 75%.
---
Manufacturing may have troughed in Q2 of 2019 globally, has been rising throughout Q3, says IIF
---
---
Risks are tilted to downside due to less supportive external environment, says IIF
---
The IIF mentioned that the debt ratios are above 50% of the GDP in many emerging markets, and in some cases are well into high-risk territory
---
The state's household debt to the GDP slightly decreased to 7.2% in Q1 of 2019, compared to 7.4% in the same period of 2018, the report added.
---
Average growth in MENAP forecasted to decelerate slightly to 2.2% in 2019, says IIF
---
Stock market is expected to lure in more foreign investors in 2017 with cheap prices 
---
End of Section