Latest in
---
Wicker handicrafts make use of one of Egypt's heritage handicrafts whilst using environmentally friendly and locally available resources
---
The decorative products are globally famous for their eco-friendly elements, low prices
---
The programme is divided into two main sections, the inaugural Atelier Cairo winter fair, a bazaar of traditional and contemporary works of craft and design for sale, while the second part is a series of workshops covering business planning and financial literacy, tailored to the craft sector.
---
Huge part of selling products is selling story of people who made it as person who made items is as important as product itself, say advisors
---
Egyptian researcher returned to record Egyptian handicraft heritage for children, grandchildren
---
The innovative contemporary institution is organising a four-week summer programme free of charge for children in underprivileged areas to learn about Egypt's traditional arts at the masmerising beauty of Tunis Village in Fayoum governorate.
---
Pottery involves many steps
---
---
We never imagined people would engage with our festivals and workshops as they did, says tenant
---
The chamber includes industries of handmade textiles, pottery, porcelain, ceramics, woodwork, metal handicrafts, carpets and jewellery
---
Agricultural exports saw a decline of 21%, chemical and fertiliser industries declined by 44%
---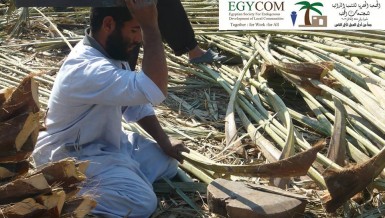 Japanese Ambassador in Egypt signs grant providing organisation with over $80,000 to improve equipment
---
Ramadan lantern prices increased this Ramadan over last year due to a price increase in raw materials and exchange rate
---
The Ministry of Antiquities halted the completion of an exhaustive restoration of archaeological sanctuaries due to a lack of financing and a proliferation of street vendors over the past three years.
---
---
2.4 million Russian tourists visited Egypt in 2013 and spent 23.7m tourist nights
---
End of Section