Latest in
---
American Sam Querrey held his nerve to topple champion Novak Djokovic in the third round of Wimbledon. Querry led overnight and held off a Djokovic comeback to condemn the Serb to a first loss in 31 Grand Slam matches.
---
World number one Novak Djokovic is facing an early exit at Wimbledon as he trails American Sam Querrey by two sets, while Juan Martin Del Potro produced some vintage tennis to beat fourth seed Stan Wawrinka
---
Day three of play at the All England Club featured the two biggest stars of the men's game: world number one Novak Djokovic and seven-time champion Roger Federer. And both got the job done against low-ranked opposition.
---
Action got underway at the All England Tennis club with a startling upset on the women's side. Among the men, world number one Novak Djokovic, bidding for a Grand Slam, easily won his opening match.
---
The 2016 BNP Paribas Open tennis tournament, held in California, is almost at an end. Yesterday the two world champions, Serbian Novak Djokovic, ranked first internationally, and Spanish Rafael Nadal, ranked fifth internationally, played against each other. Djokovic came out on top, with scores of 7-6 and 6-2. In the other semi-final match, Canadian Milos …
---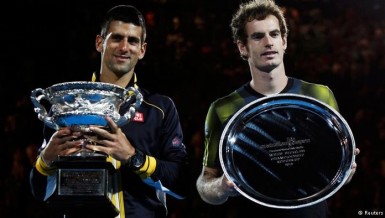 The two are nearly equal in rank and age (both are 28, Murray is a week older), but on the court, Djokovic has had the edge on Murray in almost every department
---
---
Nadal defeated Illya Vasylovych Marchenko in the semifinals match 6-3, 6-4 on the same day Djokovic defeated Tomáš Berdych 6-3, 7-6.
---
Serbian Novak Djokovic ended the season in the top ranks for tennis players in 2015, repeating his achievements during ATP world tour of 2014. Djokovic achieved more than one championship this year, adding several new records to his already admirable profile. He won the Australian Open championship for the fifth time to become the player …
---
Djokovic received his second title this year in China, one week after winning the China Open, defeating his Spanish opponent Rafael Nadal
---
The victory boosted Djokovic's opportunities to top the rank of professional tennis players by adding 1,000 points to his name, reaching 14,845 points. This is Djokovic's fifth title this year among the ATP World Tour competitions.
---
End of Section