Latest in Interviews Highlight
Latest in Interviews
---
Presidential adviser Ayman Al-Sayyad speaks to DNE
---
Politician and activist George Ishaq helped create the Kefaya Movement in 2004, standing as a strong voice for political reform in Egypt. Since the revolution he has become a founding member and senior leader in Mohamed ElBaradei's Al-Dostour party. Ishaq sat down with Daily News Egypt to discuss the current state of the country, his party, the draft constitution, and the Church.
---
Okasha: Khairat El-Shater has been threatening to spill my blood
---
DNE speaks to Doctor Abdel Hamid Omar Abaza, assistant to the Minister of Health and Population, about the new universal healthcare law
---
Hamzawi asserts the importance of "unifying" liberal powers in the upcoming elections, discusses the mistakes of the past
---
DNE speaks with Ahmed Khairy, the official spokesperson for the liberal Free Egyptians party
---
Gamal Eid, the executive director of the Arab Network for Human Rights Information speaks with DNE
---
---
Liberal former member of parliament Mohamed Abu Hamed speaks with DNE
---
As a prominent member of the Constitution Drafting Committee, what do you predict for the future of this assembly in light of the forthcoming Administrative Court ruling in September? It is hard to predict the outcome of the court ruling. The Constitution Drafting Committee members are exerting tremendous efforts. Although the makeup of the committee …
---
The Daily News Egypt spoke with the spokesperson of the Constituent Assembly, Wahid Abdel-Maguid
---
Mr Ibukun Adebayo, the London Stock Exchange's Head of Primary Markets for the MENA region, discusses the prospects of the country's investors to trade in the LSE in light of political change
---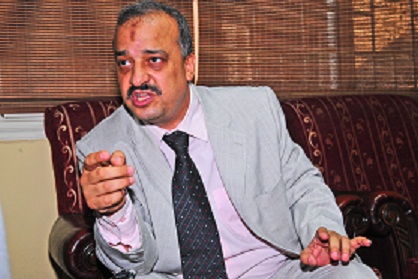 The Daily News Egypt talks to Dr Mohamed Al-Beltagy about the current situation in Egypt
---
Former presidential candidate Amr Moussa discusses the current political situation in Egypt.
---
---
Nader Bakkar, spokesperson for the Salafi Al-Nour Party, speaks to DNE.
---
End of Section