Latest in Technology Highlight
Latest in Technology
---
San Francisco (AFP) – Microsoft's next-generation operating system will be available in October as the software giant strives to stay relevant in a blossoming mobile era centred on tablets and smartphones. "This will be the biggest product and services launch year in our company's history," Microsoft chief executive Steve Ballmer said at an annual gathering …
---
In an effort to bolster sustainable economic development, the Crédit Agricole Bank of Egypt held a symposium yesterday in collaboration with several key organisations, titled "Supporting Trade and Investment." Among the participants were the representatives of the Investment Network and EUROMENA Investment fund (ANIMA,), the General Authority for Investment (GAFI,) the Egyptian Junior Business Association …
---
As Egypt and the region embrace all forms of electronic payment methods, partnership between banks, regulators and payment technology companies will ensure trust and security in the system, says Tarek Elhousseiny, Visa's General Manager for North & Francophone Africa. The use of electronic payments is on the rise in Egypt as many other places all …
---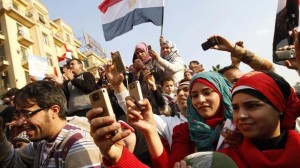 'WiMax' services to list of most promising opportunities, 'Innovative ideas' are the best bet of the time
---
Shadid: The reliance of politicians on mobile applications and Facebook portends growth
---
Deal to sell shares of 'Fun Wave"' to be finalised within days, beginning of marketing 'Open Days'
---
The theme of this year's TED Global will be "radical openness" as talks on and off stage in Edinburgh explore the implications of crowd sourcing, blogs, smartphones and other culture-changing features of the Internet Age.
---
---
Edfa3ly.com allows buyers to order products from US websites and then the company purchases and ships the items to Egypt in exchange for a commission on the value of the purchase
---
In light of the current economic conditions in Egypt, companies must try and attract new types of investments in order to profit
---
The best thing in the early stages of this kind of investment is for a venture idea to first develop in incubators until the idea matures, finds some success and begins to feel its way towards growth.
---
With a new idea needed by the market, a young person can found a company; then in less than a year, he can have the biggest investment funds chasing it with millions of pounds, trying to buy a stake or minority ownership.
---
Cairo-based Orascom Telecom (OT) said on Monday it had signed a deal to complete the sale of its controlling 65 percent stake in a mobile phone service operator in Congo Republic for $66.6 million.
---
ICT 2006, scheduled for February 5-8, is set to attract many of the region's top players and the world's leaders in telecommunications, information technology, networking, computing and broadcast technology, as the event gears up for it's 10th round in Cairo. Organizers are expecting a growth of 25 percent in both the number of exhibitors and …
---
---
Telecom Egypt (TE) raised LE 5. 132 billion ($892 million) from its initial public offering, valuing the company at $4. 6 billion on the London and Cairo exchanges where it will begin trade next week, it said on Thursday.
---
End of Section