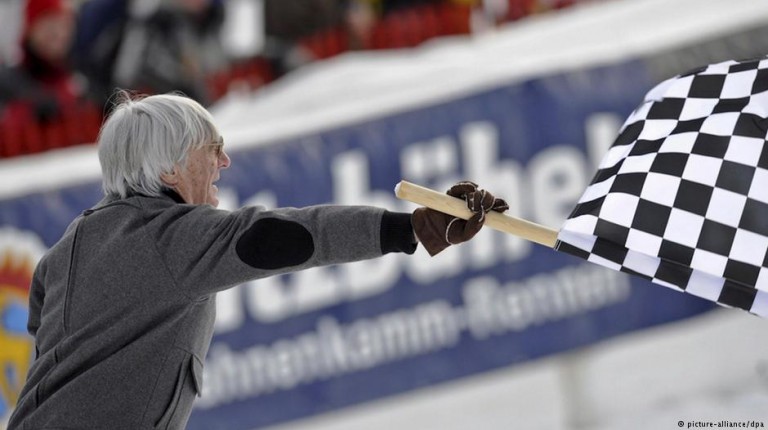 F1's new owners, Liberty Media, have replaced Bernie Ecclestone as the series' day-to-day commercial supremo. Media executive Chase Carey will be the new chief executive, with Ecclestone staying on in an honorary role.Liberty Media on Monday confirmed that former 21st Century Fox executive Chase Carey would take over Bernie Ecclestone's Formula One role, as the new owners finalize their plans for their first season since buying the rights to the championship.
Ecclestone had told German specialist newspaper "Auto Motor und Sport" (AMuS) earlier on Monday that F1 would go into the 2017 season with a new commercial face, saying he had been removed as the series' CEO by the new owners.
"I was dismissed today. I'm out, it's official. I'm not running the company any more. My position has been taken by Chase Carey," Ecclestone was quoted as saying in AMuS. The paper's reporter Tobias Grüner shared the story on Twitter.
Ecclestone, now 86, said he had been offered an olive branch as a kind of honorary president. "My new role is one of those American terms. A kind of honorary president. I have this title now without knowing what it means."
Liberty Media clarified Ecclestone's official new title, chairman emeritus.
New owners seek a shake-up
Liberty Media's purchase of F1 was only approved by its board a week ago. Motor sport's governing body, the FIA, approved the takeover a day later. Carey, formerly the executive vice-chairman of 21st Century Fox, was named early in the takeover bid as the operation's chairman.
It's not yet clear whether he will be taking on the many and varied roles Ecclestone was known for during his decades as F1's most prominent deal-maker. Ecclestone served as the lead negotiator for television rights deals, race calendar additions, as a mediator between teams and the FIA, and more. More likely, in fact, is a considerable dilution of the collection of roles that Ecclestone could only carry out after a lifetime in the paddock.
F1 engineering legend Ross Brawn – a mastermind of championship-winning cars at Benetton, Ferrari and Brawn GP during his career – is expected to take up a new position as a sporting director, while former ESPN executive Sean Bratches has been linked with a commercial director's position.
Almost 60 years in F1
The diminutive Ecclestone, known for his straight talk and often controversial viewpoints, has been a key player in the business of F1 since the 1980s, back when he owned the Brabham team and offered to start negotiating media deals on behalf of the entire grid in a bid to boost revenue.
Brabham faded with time, but Ecclestone remained, ultimately buying out a 100-year lease to the commercial rights to the sport in 2001. That lease has been sold on several times since, always at inflated prices, with Liberty Media's takeover valuing the series in the region of $8 billion (roughly 7.5 billion euros).
One past sale of the series' commercial rights ultimately led to a Munich court case. Ecclestone paid 100 million euros to stop the trial, taking advantage of a controversial German loophole designed to allow courts to settle complicated cases without running a full and costly trial.
He's credited, perhaps more than anyone else, with creating F1 as it is known today. His first appearance on the grid dates all the way back to the 1958 Monaco Grand Prix – Bernard Charles Ecclestone failed to qualify for the race driving a Connaught B-Type. The used car salesman soon realized he had more of a flair for the business of motor racing, and began focusing on that aspect of the sport.
Nevertheless, Ecclestone's ability to monetize and direct the sport in the 21st century had come under increasing scrutiny, not least because of the sport's dependence on direct television revenues, its need to visit more and more dubious dictatorships to balance the books and its reticence to make bold engineering decisions on the track. Ecclestone has been the highest-profile critic of efforts to hybridize F1 engines, for instance, and senior engineers in the paddock like Pat Symonds have often lamented how "conservative" the series' leadership has become.
The Liberty Media takeover coincides with a major rules revamp for 2017, one Ecclestone had welcomed, which is aiming to improve the cars' aerodynamic performance and lap times. Typically, rule changes have tended to try to rein in lap time – often on safety grounds – in recent years. Critics argue that faster laps do not necessarily equate to more exciting racing, the stated overall aim of the changes.