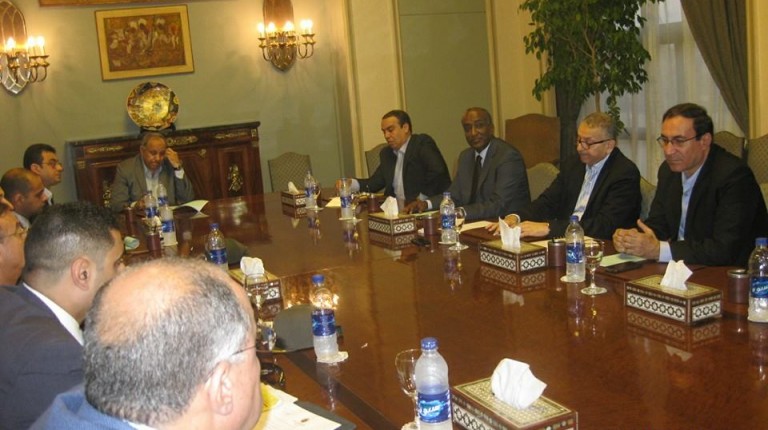 UN envoy to Libya Martin Kobler discussed the recent situation in Libya with new Arab League secretary-general Ahmed Aboul Gheit on Tuesday.
Kobler arrived in Cairo on Monday for a three-day visit to discuss recent developments in Libya with Egyptian and Arab League officials, and ways to restore political dialogue in the country.
He applauded the Arab League's constructive role in Libya, adding that he is looking forward to future cooperation.
The UN envoy briefed Aboul Gheit on the situation in Libya and the ongoing political process.
Kobler also met with the assistant for foreign affairs to the Egyptian minister of defense, Mohammad El-Keshky. Both sides discussed ways to break the political stalemate in Libya, said Kobler on his official Twitter account.
The head of the Libyan Army, Khalifa Hafter, also arrived in Cairo on Monday from Tobruk to discuss counter-terrorism efforts with Egyptian officials.
Last month, Haftar visited Moscow after passing through Cairo to seek support in fighting Libyan militias.
Abou Bakr Baira, a member of parliament in Tobruk, previously told Daily News Egypt that Haftar's recent visits to Egypt come in the framework of continuing consultations with Egyptian authorities.
"Haftar went to Russia to seek support for the Libyan army against the militias," said Baira.
Hafter's visit to Russia came amid western support of the militias and an embargo on arms to the Libyan army.
Arming the Libyan army is one of Egypt's biggest concerns regarding Libya, as Cairo believes that move will help the army fight extremist militias.
After much deliberation, the international community is making moves that indicate it is ready to consider lifting the arms embargo on Libya, which was imposed in 2011, as the oil-rich country slipped into turmoil amid the downfall of Muammar Gaddafi's regime.
Meanwhile, the Libyan Government of National Accord (GNA) moved to its headquarters in Tripoli Monday, three months after it was inaugurated.
Kobler welcomed the move as a step of increasing the power of GNA in the capital, describing the move as "encouraging and important".
The UN-backed GNA entered Tripoli in March and received several governmental buildings, but the ministerial meetings were held in Tripoli's maritime base.