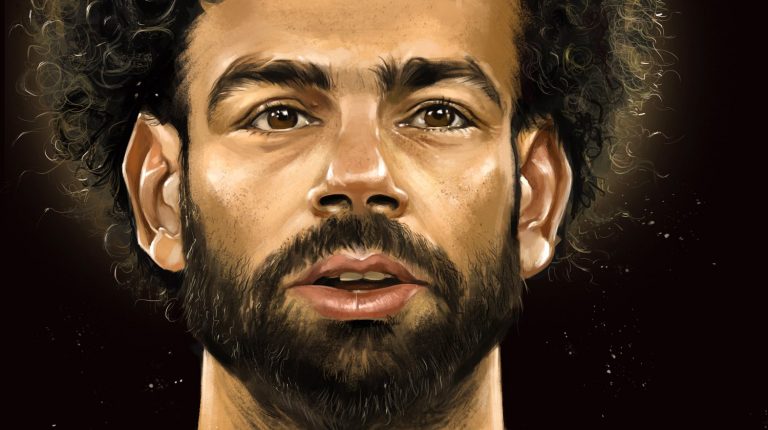 With a tray strapped to his shoulders and a colourful aura around him, Shady Ghaly walks the streets of Cairo carrying his own miniature art gallery. He is one of the few advocates who has been trying to renovate art and expand its borders.
Ghaly specialised in painting stones, which are particularly abundant in Egypt. Whether colourful or symbolic, his art is always straightforward and eye-catching.
He depends on direct engagement and conversation with people on the streets to develop his talent and take the local artistic scene outside the walls of traditional galleries, which have lost their relevance and connection with people over time.
Daily News Egypt met Ghaly in the streets of the fifth settlement, where he asked for a genuine opinion regarding his innovation.
How did you decide to take your art in this direction?
I am a graduate of fine arts, department of interior design, and class of 2002. I am currently an art instructor; I mostly teach kids drawing, painting, and sculpture. I also do paintings and collages with stones.
Two months ago, I attended a workshop on stone painting in Berlin. When I came back to Egypt, I asked around about artists doing the same thing over here but I could not find anyone. I have always been interested in collecting stones; therefore it was very natural that I began to include this art in my collection and started marketing and selling it on the streets as well.
Why did you choose the streets as your main platform?
I try to personally market my work and interact with people to fully hear their feedback; even if there is absolutely no financial revenue, I enjoy hearing people's opinions regarding my work. So far people truly like the idea of stone painting, which is relatively new to the Egyptian scene.
How would you evaluate people's understanding and acceptance of this concept?
The average person is not yet used to the concept of street art. I try to pick the areas that I target based on the residents' ability to welcome new things. People are still not fully convinced that an artist can take his work and roam the streets. I am often mistaken for a food vendor or beggar.
However, those who do grasp the concept surprise me with their reaction to the stones. Many even suggest versatile methods of usage since some use them as decorations while others turn them into rings and necklaces.
A few of the fans became true supporters of the concept and have brought their own collection of stones and asked for specific designs. I customise and personalise some pieces for clients.
Where do you get your materials from?
Most of my stones are sourced from the Red Sea, South Sinai, and the Western Desert. Many people believe in stones, their energy and power, and so I am often asked about the stones' peculiarities.
Each stone represents an independent piece of art; how does your creative process evolve?
Each one of my pieces has its own story. It takes me one to three hours to finish one stone. First I thoroughly study the shape of the stone to visualise its dimensions and the design. Then I sketch the artwork, print it on the stone, and finally choose the colours and paint. The process takes a good amount of time, creativity, and effort because each mistake is irreversible; it requires training to ensure accuracy and quality.