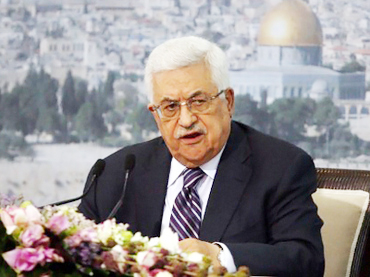 Palestinian President Mahmoud Abbas arrived in Athens Sunday, where he will be handed a copy of the "symbolic" resolution by the Greek Parliament to recognise the state of Palestine.
Abbas, who was received by Greek Labour Minister Giorgos Katrougalos, met with the Speaker of the Hellenic Parliament Nikos Voutsis at the Old Royal Palace, the house of parliamentary proceedings, where the resolution was read out.
Abbas also met with his Greek counterpart Prokopis Pavlopoulos at the Presidential Palace, and the Greek Prime Minister Alexis Tsipras at the Maximos Mansion, the official seat of the Greek Prime Minister.
Abbas's visit came on the occasion of the Greek Parliament's Standing Committee on Defence and Foreign Affairs calling upon the Greek government to recognise Palestine as a state in a unanimous vote.
Greek state media said the resolution is a "symbolic" initiative, rather than an official recognition.
On Tuesday, Abbas will meet with the head of the Greek Church, Archbishop Ieronymos II of Athens.