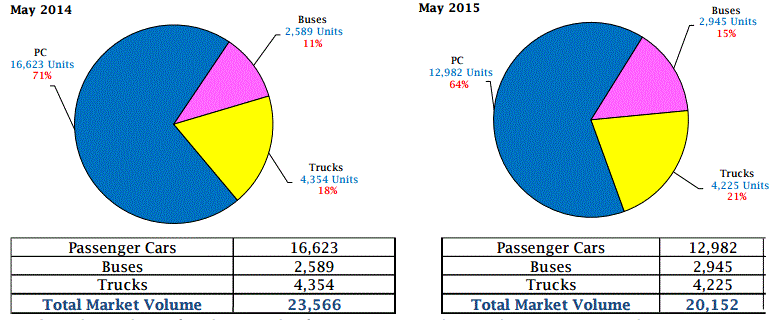 A 4.9% surge was recorded in automotive market volume since the beginning of the year to May 2015 compared to the same period last year, the Automotive Marketing Information Council (AMIC) revealed in its latest report.
The year-to-date (YTD) sales volume totalled 114,087.
Passenger cars sold amounted to 76,771 cars, marking a 3% surge compared to the same period last year. Bus sales grew by 18%, increasing from 12,005 buses to 14,199 buses. Truck sales also grew by 5%.
The market volume recorded a 14.4% decline between May 2014 and May 2015 however, decreasing from 23,566 units to 20,152 units.
The largest drop was recorded in the passenger cars market, plummeting to 12,982 cars compared to 16,623 cars sold the corresponding month last year. Truck sales inched down by 3%, while buses grew by 14%.
Regarding sales in May 2015, the report stated that they were11.68% lower than the 2015 YTD average, and 14.49% lower than the sales in May 2014.
In May, Chevrolet held the top position the market with its sales at 4,515 vehicles, 22% of the market, followed by Hyundai, with 3,454 vehicles, 17% of the market. Toyota took the third position with 2,343 vehicles and Nissan made the fourth position with 1,832 vehicles. The fifth, sixth, and seventh place went to Suzuki, Mitsubishi and Geely-Ghabbour with 938 vehicles, 922 vehicles and 821 vehicles respectively.
Between the beginning of the year and May 2015, the market share of Japanese cars climbed up by 15.4% year-on-year (YoY) while the share of South Korean vehicles increased by 9.2% YoY. A significant drop was noticed in vehicles of Asian and Chinese origin, which plummeted by 34% and 27.6%, respectively.
According to a previous report issued by AMIC, car sales increased in the first quarter (Q1) of 2015 by 14.9%, with 72,100 cars sold compared to 62,800 in Q1 of 2014. AMIC indicators revealed that there was a decline in consumers' buying operations in Q1 of 2015 for the locally assembled cars by 1%. Fully imported car sales increased by 34.3% to be at 38,000 units, compared to 28,300 sold cars last year
In April 2014, the sale operations for passenger cars stood at 48,900 cars, compared to 42,900 cars, an increase of 14%. Truck sales increased to 14,700 trucks, compared to 12,900 trucks, also a 14% rise. Bus sales reached 8,500 units compared to 6,800 units, a rise of 23% in the same period.