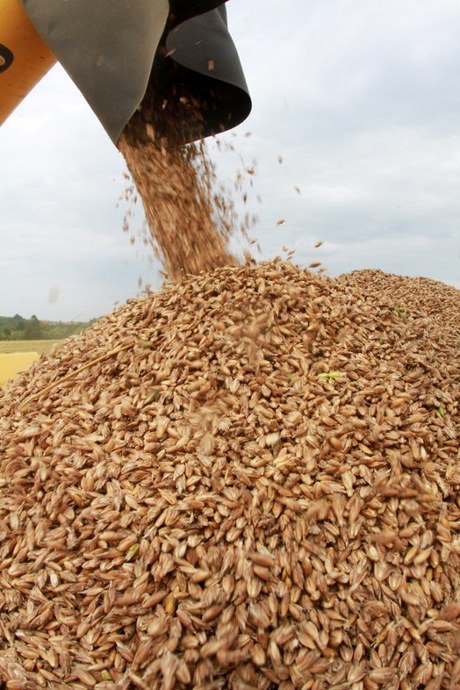 Egypt is not among the countries that Russia will restrict the exports of wheat to, said Minister of Supply and Internal Trade Khaled Hanafy in a ministry statement Sunday.
Russia recently took a decision to restrict the exportation of wheat to some countries.
Expectations of an increase of wheat prices exported from Russia to Egypt were denied by the Ministry of Supply and Internal Trade's official spokesman.
Hanafy added that Egypt's strategic reserves of wheat exceed safety limits. He highlighted that the General Authority for Supply Commodities (GASC) recently contracted to purchase 300,000 tons of wheat from France and Russia to produce subsidised bread through a global tender.
Egypt bought 240 tonnes of French wheat  alongside 60 tonnes of Russian wheat, at an average price of $273 per tonne. The purchased amount is to be supplied to Egypt starting 21 January 2015, over a period of 10 days.
Hanafy added an amount of 3.6-3.7 million tons is to be supplied from local farmers and traders and is expected to be received by mid-April 2015. As a result, the wheat stock will be sufficient until October 2015 he said. The price of domestic wheat will be EGP 420 per one ardeb [equal to roughly 150kg].
The statement revealed that the ministry imports wheat from several countries through global stock markets, including Romania, Canada, Argentina, Ukraine, the US, France and Russia.
The offers selected are the ones with the highest quality and lowest prices, Hanafy said.
Earlier in October, Cabinet spokesman Hossam El-Kawish said the government will purchase wheat from domestic farmers at a rate of EGP 420, even if this amount is higher than global prices, in order to support Egyptian farmers.