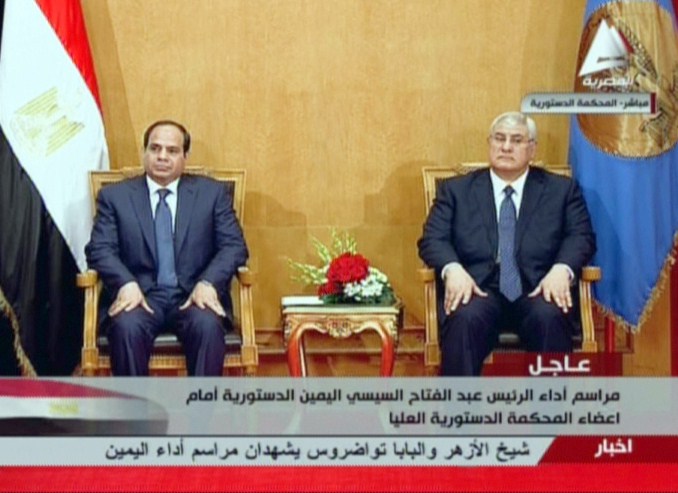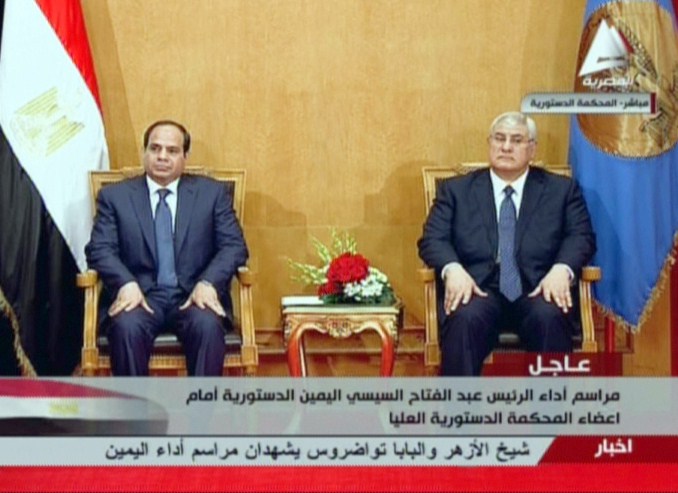 President Abdel Fattah Al-Sisi was inaugurated Sunday morning, officially beginning the four year tenure of the former army chief.
"I swear by Almighty God to loyally uphold the republican system, to respect the Constitution and the law, to fully uphold the interests of the people and to safeguard the independence and territorial integrity of the nation," Al-Sisi read out the oath-of-office before  the crowd in the hall broke into applause.
Al-Sisi took the oath before the General Assembly of the Supreme Constitutional Court as stipulated in Article 144, which states that the president swears in before the court in the absence of a House of Representatives.
Al-Sisi and outgoing president Adly Mansour had sat side by side as the inauguration proceeded.
After being sworn in, the president and his motorcade will proceed to the Itihadiya presidential palace, at which point, the artillery will fire 21 shots in the air and he will be greeted by the honour guard, state-run MENA reported. Afterwards, the national anthem will play and Mansour will greet Al-Sisi at the stairs of the palace.
The president and outgoing president will then partake in a handover of power ceremony in which Al-Sisi will receive a number of foreign dignitaries which range from heads of state to lower level delegations. He and Mansour will then head to the celebration hall where Mansour will deliver a speech, followed by President Abdel Fattah Al-Sisi's speech. Both presidents will then sign an agreement to hand-over power; "unprecedented" in Egypt's modern political history.
After the signing of the agreement, attendants of the inauguration will have an honourary luncheon. Around 1,200 representatives of Egypt's different governorates are expected to attend the evening ceremony at the Qobba Palace. The celebration will begin with the national anthem, followed by Quranic recitals. Mansour will then deliver a short speech, to be followed by Al-Sisi's address to the nation.