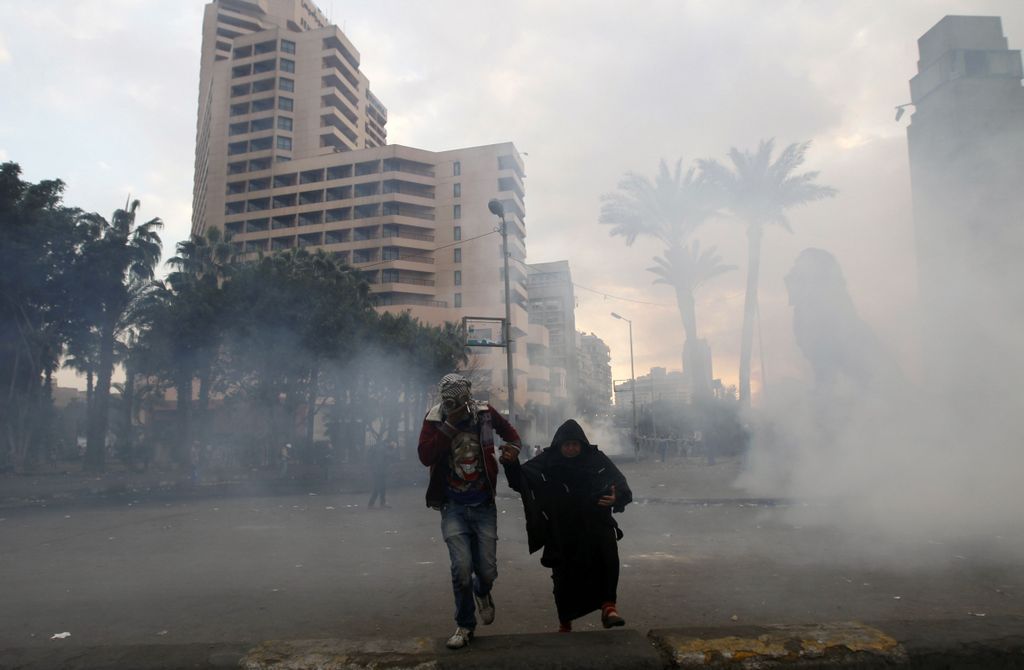 By Basma Ragab
Workers in Egypt's tourism and hotel industry expressed their concern over the violence seen throughout the country since the second anniversary of the January 25 revolution, and its potential effects on tourism.
The anniversary came a day before the controversial January 26 court verdict regarding those accused of killing Al-Ahly soccer fans in Port Said the previous year. The ruling, which saw the Port Said Criminal Court sentence 21 people to death, triggered a wave of clashes and protests in Port Said, Suez, Ismailia, Cairo, and a number of other provinces.
He said that these events would lead to a decrease in tourism in Egypt throughout February, and that the situation could be expected to continue until Egypt's upcoming parliamentary elections.
Towfiq Kamal, president of Egypt's Hotels Chamber, said that the average rate of occupancy for hotels in Aswan and Luxor was 15% and 10% respectively, with numbers reaching 20% for five star hotels in Cairo located far from the city's downtown district. Operations in the Semiramis and Shepheard hotels in downtown Cairo have shut down because of repeated clashes in the area.
The average daily rate of occupancy for hotels in the Red Sea and South Sinai regions hovered between 40% and 50%. Drops in hotel occupancy rates after the Christmas season, Kamal said, are considered normal.
Kamal added that Cairo, Alexandria, and the south valley regions were most affected by the decline in tourism, with a recorded 70% drop in occupancy rates for the former two and the latter suffering a 90% drop.
Ala Kamal Mansour, previous president of the Chamber of Tourism Establishments in the central Delta, said that the situation did not bode well, and that hotels in the central Delta region would witness a continued 40%-50% drop in occupancy rates in the next few days. Aswan, Luxor, Sharm El Sheikh, and Hurghada, he said, would witness a 30% drop in occupancy rates in the same period.
He went on to say that average occupancy rates for hotels throughout the country did not exceed 50% in any province. He attributed this partially to countries such as England, Germany, China, Japan and the United States warning their citizens not to travel to Egypt during the month of January.
He noted that tourist facilities in Aswan and Luxor had resorted to discounting their services by 12% in order to spur domestic tourism, but that this would not be a magic solution for Egypt's tourist industry.
He attributed the decline in tourism to Egypt's current lack of security and the increase in the price of the dollar compared to the Egyptian Pound, itself a result of a shortage of hard currency in the country.
Amru Sadqa Na'ib, tourism expert and president of the Board of Directors of the Egyptian Travel Agents' Association, said that Red Sea cities were not particularly affected by the lack of security in Egypt and that a large number of international flights arrives directly to the region. This, he said, was not the case with Aswan and Luxor, which require that travellers pass through Cairo in order to reach their destinations.
He added that Sharm El Sheikh and Hurghada witnessed a 40% decline in occupancy rates after the events of 25 and 26 January, but that this was normal for the month of February. However, Egyptian hotels will still be losing out on a number of potential contracts during this period.
Sadqa estimated that the current occupancy rate for hotels in Luxor and Aswan was between 8% and 12%, with hotels in Alexandria and Cairo reaching anywhere from 15% to 20%.
He went on to note that foreign insurance companies refused to insure tourists travelling to Egypt during the week of January 25 and that a number of European tourists had cancelled their trips to Egypt as a result.
Sadqa tied the drop in the price of tourist services to supply and demand economics, pointing out that prices differed from region to region. Sharm  El Sheikh and Hurghada have not seen a decrease in the price of tourist services to the same extent that Cairo, Alexandria, Aswan and Luxor have.
Hani al-Sha'ar, vice president of Egypt's Hotel Chamber, said that hotels in Cairo, Aswan and Luxor had not been receiving new reservations and that the flow of travellers to these cities was largely limited to businessmen attending conferences in the region. The Red Sea region, he said, was not as affected as other provinces in the country.
Despite Egypt's current situation al-Sha'ar said that as a result of riots and protests on an almost monthly basis, Egypt has gained a negative image that is regularly repeated by the international media.
Sha'ar added that the general price of tourist services has decreased by more than 50% compared to before the revolution, at a time when hotels and other facilities have to pay more for food and energy services.
Hosam al-Fangari, president of the Spanish-Egyptian Cooperation Centre, said that events in Egypt were being monitored by foreign countries, and that tourism would pick up once again after the country had solved its political crisis.
He noted that the number of hotel reservations in Egypt decreased during the initial outbreak of the revolution but that the price of these services had gone down by 15% to 20% in the last month, particularly in cities such as Aswan, Luxor and Cairo, whose tourism is largely attached to visits of ancient historical sites.
Hotel prices in Sharm El Sheikh and Hurghada had not significantly decreased despite the recent increase in violence. He said that this was because those cities rely on tourism from the Russian market.
Fangari added that tourism from Spain and Latin America had sharply decreased in January, saying that most travellers from these regions prefer to visit historical sites in Cairo, Aswan and Luxor, as opposed to Russian tourists who prefer scuba diving and other outdoor activities.