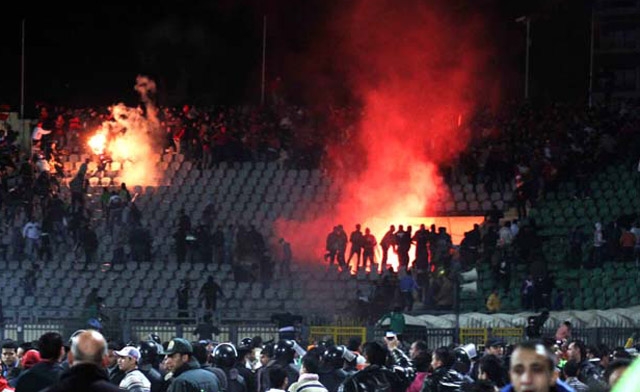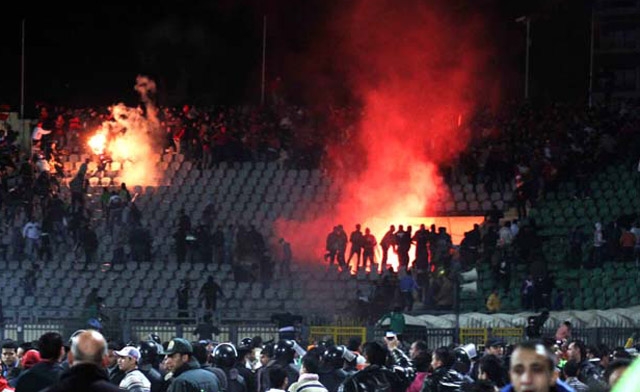 Al-Ahly Ultras will gather at the verdict session of the Port Said massacre trial on 26 January.
The two groups, Ultras Ahlawy and Ultras Devils, are distributing leaflets calling on all Egyptians to attend the trial of those accused of the murder of 72 football fans after a match in Port Said last year.
The groups said in statement: "The patience of the martyrs' families and the youth has limits, and our limit is the verdict session of the trial, for it is unthinkable that almost a year of investigations and trials passes and then the culprit remains unknown."
The statement added that whoever had an excuse not to attend the previous court sessions does not have one now, and that the trial will be on a Saturday and so everyone should come: "This is the least we can all do for the Port Said massacre martyrs specifically, and all of the revolutions' martyrs in general.
"The policemen accused will no doubt be sentenced, which will be the first time since the beginning of the revolution that policemen have to face justice for their killing of martyrs."
Over 70 supporters of Al-Ahly were killed on 1 February 2012 following a football match between Al-Ahly and Al-Masry in Port Said.
Crowds appearing to be Al-Masry fans stormed the pitch after the match, attacking Al-Ahly players and supporters.
Fact-finding committees found that the stadium gates had been sealed shut. Footage of the game shows the Central Security Forces tasked with securing the game watched on as the clashes took place.
The football league was suspended after the game and all attempts to bring it back for the following season were halted due to several demonstrations by ultras groups who demanded no local football competitions be played until someone is held accountable for the deaths.
The Ministry of State for Sports and the Egyptian Football Association both announced the Egyptian Premier League will resume at the beginning of February, which will be the anniversary of the massacre.
Games will be played in military stadiums without an audience and secured by the army after the Ministry of Interior declared it would be unable to secure matches.
Al-Ahly star Mohamed Abu Treika announced he would attend the court session: "You want to know why I am doing this? I saw my brother the martyr getting killed and I will not let him go un-avenged."