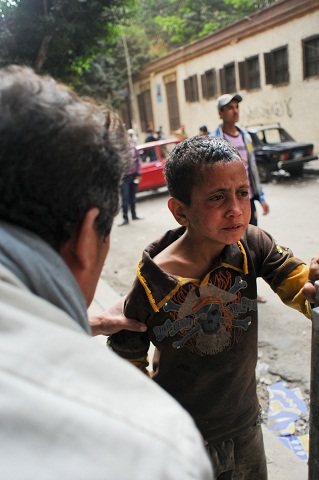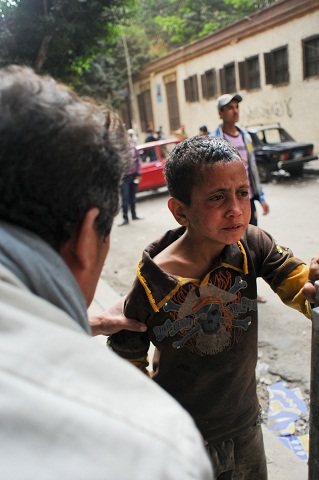 For the past week security forces have fired large amounts of tear gas at protesters in and around Tahrir Square. The effects reported by protesters and bystanders have raised questions about the composition of the gas and the possible short- and long-term health impacts.
Three types of gases have reportedly been used in the past week. The most well-documented is CS gas. It is considered non-toxic and non-lethal by its producers. Long-term exposure to the gas has not been extensively researched, but many studies have concluded that it may have possible cancerous side-effects and may also increase the risk of miscarriages. Vomiting is a listed side effect of exposure, as are second degree burns.
CR gas is the second type being used, although much less frequently. The effects of CR gas are more intense than CS but manufacturers claim it is also less toxic.
Some protesters have speculated that a third type of gas, CN, may have been used. It is highly toxic and accordingly conventional law enforcement agencies tend to refrain from using it, preferring CS instead. Many protesters in Cairo have suspected the use of CN gas but Daily News Egypt has seen no evidence to support this.
A paper published in 2011 by Paul Rega, a physician and member of the American College on Emergency Physicians, concluded that CS is "ten times more potent… than CN," but less toxic. Rega also noted that deaths have been caused by pulmonary injury or asphyxiation due to CN gas.
The report also concluded that trace levels of cyanide could be found in the skin after being exposed to such gases, but the risk of being affected by cyanide toxicity "seems to be minimal."
A report published by Peter Blain in the Toxicological Review Journal in 2003 concluded that "serious systemic toxicity is rare [among riot control gases] and occurs most frequently with CN; it is most likely to occur when these agents are used in very high concentrations within confined non-ventilated spaces."
The New York City department of health and mental hygiene lists all three gases as potentially lethal if people are exposed for prolonged periods of time. Glaucoma, which leads to blindness, and death by respiratory failure are two possible side effects they list.
The Defence, Science and Technology Laboratory (DSTL) in the United Kingdom, a producer of military technology, refused to comment on possible adverse health effects that could be caused by expired gas canisters. Christopher Panks, a press officer for the company, said they could not provide the information because, being a part of the UK government, it could prove to be bad press for Britain's allies.
"DSTL is fully open about its work and seeks to publish the results wherever possible in open peer-reviewed literature," the company said. Panks said they are committed to openness, but could not talk on the matter "in light of the potential heat that could arise."
Combined Systems International, the American company responsible for much of the tear gas found to have been dispersed in Tahrir Square last year and now, were unavailable to comment.
The Ministry of Interior was unavailable to comment on what gases security forces have been using.