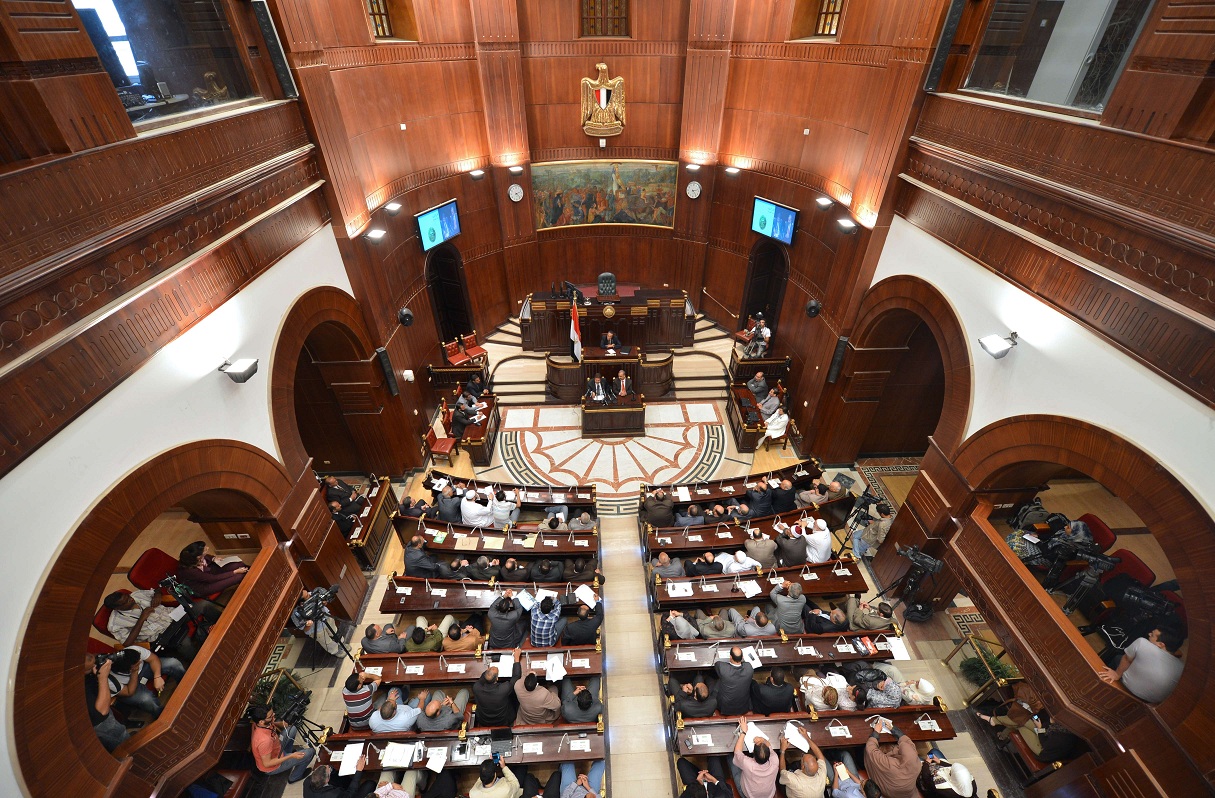 The Constituent Assembly tasked with drafting Egypt's constitution was formed on 26 June 2012 following an administrative court order to dissolve the previous assembly.
The first constituent assembly was elected by both houses of parliament, the People's Assembly (lower house) and the Shura Council (upper house) and half of its membership was reserved for parliamentarians.
The court ruled that members of parliament had the power to elect members of the constituent assembly but could not elect themselves. The abortive first assembly had also come under fire from liberal and secular forces who argued that Islamists, especially the Muslim Brotherhood, used their parliamentary majority to gain a majority within the assembly.
Before the second assembly was formed, meetings between Islamist and civil groups took place in order to agree upon the composition and membership. Both parties eventually agreed to split the seats in half between "religious forces" and "civil forces."
The "civil" grouping was surprised to discover that all Christian representatives were not included as a religious group but put together with state, military, and labour representation, which left the assembly, again, with an Islamist majority.
Out of the 100 members of the assembly, at least 60 are Islamists. This was possible because several members were elected based on their positions or titles as heads of syndicates. They were essentially voted in to represent other groups, but are in fact individuals with Islamist leanings.
As for the "civil forces," after taking out the representatives of the several Christian churches, as well as institutions of state and the military, the assembly ended up having only 28 representatives from liberal or secular backgrounds.
The assembly's internal by-laws state that if consensus is not reached over a certain article, it is voted upon with a 67 per cent majority required, making it easy for the Islamist majority of 60 percent to dominate constitutional discourse. Furthermore, failing a 67 per cent vote, the by-laws allow for a second round vote that only needs 57 percent.
Essentially, there would only be real debate over an article if Islamists (the Muslim Brotherhood and Salafis) were not in agreement. If the Islamists present a united front over an article, it will most likely pass.
This situation resulted in 11 members from the civil camp withdrawing from the assembly in protest. One member who stayed, Manal El-Teiby, a human rights and Nubian activist, eventually resigned in protest. Recently, however, four of the withdrawing members have returned in an attempt to steer the constitution away from Islamism.
Hossam El-Gheriany
Constituent Assembly Chairman Hossam El-Gheriany is a prominent judge who at the time of his election as chairman of the assembly was also chairman of the Cassation Court and the Supreme Council of the Judiciary.
He is a long time member of the independent judiciary movement and alongside other activist judges like Hesham El-Bastawisi and the Mekki brothers, Ahmed and Mahmoud, fought against the attempts of former President Hosni Mubarak's regime to control the judiciary and bring it under the executive.
It is believed that Mubarak tried to lower the retirement age just to prevent El-Gheriany from heading Egypt's top court and judicial council, after he could no keep his predecessor in position.
Like his comrades in the movement Ahmed and Mahmoud Mekki, El-Gheriany has been rewarded with important positions, all of which come with their perks. Ahmed Mekki was made Minister of Justice in Prime Minister Hesham Qandil's cabinet, a post El-Gheriany reportedly turned down, and his brother Mahmoud was chosen by President Mohamed Morsy to be his second in command as vice president.
In addition to his post as chairman of the Constituent Assembly, El-Gheriany was recently made chairman of the National Council of Human Rights. Although El-Gheriany and the Mekki brothers are independents, they are widely viewed as being close to the Muslim Brotherhood, now in power.
Ahmed Mekki, for example, has long maintained that he "did not have the honour of joining the Muslim Brotherhood" when asked about the matter, while El-Gheriany was approached by the Muslim Brotherhood and asked to run for the presidency with their backing at the time when the Brotherhood had not yet decided to field their own candidate.
El-Gheriany is widely regarded as an independent, strict, but fair and honest judge. In the early days of Constituent Assembly sessions he was blamed for running the assembly a bit too strictly. Supreme Council of the Armed Forces representative and Assistant Minister of Defence Major General Mamdouh Shahin told El-Gheriany that "the assembly is not a court" to which El-Gheriany responded by telling Shahin to "sit down and remain silent."
He later offered to resign if his management methods were not to the members' liking. They unanimously voted to retain his leadership. He ran sessions in a stricter but much more organised fashion than his predecessor Saad El-Katatny, giving equal speaking time to all members and allowing debate.
Lately, however, El-Gheriany has become very defensive about the assembly calling its work "sacred" and "historical". He berated human rights activist Manal El-Teiby for resigning from the assembly, accusing her of abandoning "important work for the sake of Egypt" and refusing to read her resignation letter publically in full as she requested. He instead read out only parts of it, arguing against them and belittling her concerns.
She chose to resign due to her belief that the Assembly was "writing Egypt's worst constitution and a constitution of the counter revolution" due to the domination of the Islamist majority.
In a meeting on Monday with European diplomats El-Gheriany said that the Constituent Assembly would continue to work the way it does now, no matter what way other external matters go.
The Assembly is currently facing a court case in the Administrative Judiciary Court that could end up dissolving it. El-Gheriany made statements saying that the court would not likely dissolve the assembly due to political considerations.
These statements were seen as a major gaffe, especially for a man who is known for spending his life struggling for an independent judiciary.  The implication that courts should make verdicts based on the political situation was not well recieved.
Furthermore, he said that even if the Assembly were dissolved, President Morsy, who has the constitutional power to pick a new assembly if the current one is dissolved, would essentially pick the same members that are in the assembly now, and that they would carry on working on the current draft despite the issues several liberal and secular groups have with many of the constitutional articles being produced.
Essentially suggesting that a deal is already in place and casting a shadow of doubt over the judge's perceived independence.
Salafis:
Younis Makhyoun
Makhyoun held a seat in Egypt's post-revolution People's Assembly after being elected in Damietta, Beheira as a member of Al-Nour Party. He was a member of the first Constituent Assembly before it was dissolved and was subsequently appointed to the current one.
In August, Al-Nour party boycotted Prime Minister Hesham Qandil's cabinet after being offered the position of environment minister. In a statement Makhyoun said the position was "not worthy" for the country's second-most successful party.
In late September Makhyoun discussed Shi'a Islam on the show 90 Minutes on Al-Mehwar channel. "The long history of Shi'a is a dagger in the back of the Islamic ummah," he said. He also expressed the belief that the spread of Shi'a in Egypt, funded by Iran, would lead to a split in the country's national fabric.
Makhyoun was also one of a number of members who stood against a constitutional article banning the slave trade and human trafficking. He justified his stance by claiming that such a phenomenon does not exist in Egypt.
In an interview on Al-Tahrir channel the former MP pointed out that such an article did not exist in the 1923 or 1971 constitutions. Makhyoun went on to say that including such an article would give Egypt a bad reputation on the world stage, which would then be under the impression that human trafficking is widespread in the country.
He claimed that some international conventions consider marriage of women under 21 years old as human trafficking, so addressing an issue in the constitution would potentially create contradictions to these conventions.
Similarly, Makhyoun opposed the idea of using international conventions to determine human rights in Egypt, worried that some of these international norms conflict with Islam and are based on secular and western values.
Makhyoun also emerged as a vocal opposition to the IMF loan, saying it was based on usury. "God does not bless haram [forbidden in Islamic law]. A usury-based economy will not succeed."
In late September Makhyoun denounced those boycotting the constituent assembly saying, "We will continue to work in the assembly to maintain Egypt's Islamic identity and for a constitution that pleases God."
Mohamed Ahmed Atta Omara
Omara is a member of Al-Nour party and a professor at Egypt's Al-Azhar University. As a member of the Constituent Assembly Ahmed Atta Omara is one of the 100 people drafting Egypt's future.
He is also the man who defended the right to marry off women who have not yet hit puberty, because he claimed that Quranic references to divorcees who have not yet hit puberty constitutes proof of pre-pubescent girls being allowed to marry.
This comment came during a televised interview on Wael Abrashi's show on Saturday. The comment was part of the discussion surrounding article 36 of the draft constitution which guarantees the state would "take all legislative and executive measures to entrench the principle of the equality of men and women in the areas of political, cultural, economic and social life without prejudice, according to the provisions of Islamic law."
The wording allows for a broad range of interpretations regarding the rights of women within Islam, which according to the National Council for Women would curtail the rights of Egyptian women.
Yasser El-Borhami
A prominent Salafist Sheikh and Al-Nour Party co-founder, El-Borhami received his degree in Shari'a from Al-Azhar University in 1999.
After the revolution ousted Mubarak, El-Borhami became extremely active in Egypt's political sphere. In June he conducted an interview with Al-Shorouk, in which he supported having ties with all nations in the world including non-Islamic ones, but stressed that Iran "should not appear to be trying to spread the Shi'a sect within Egypt."
Regarding the application of Shari'a law, El-Borhami is adamant that it is the will of every Egyptian to be ruled by Shari'a and "what won the Brotherhood and Al- Nour the majority in parliament and the presidency is their confirmed desire to apply Shari'a."
El-Borhami also said in July that he would oppose the appointment of a woman or a Copt as consultant to Morsy, telling the Hayat 2 sattelite channel that "if the president appoints two deputies [who are] women or Copts, we would denounce this."
Sa'id Abdel Azim
Azim is a member of the Islamic Legitimate Body of Rights and Reformation, a prominent Salafist in Alexandria and a member of the constituent assembly.
According to state news agency MENA, in July, Abdel Azim accused the constituent assembly of promoting sectarianism. His accusation came during a debate over Article 2 of the draft constitution. It was suggested to include the phrase "Jews and Christians have the right to refer to their religious laws and appoint their spiritual leaders." Abdel Azim argued that the addition of this would only lead to controversy and foreign interference.
He believed that reference to Jews and Christians was not necessary because their rights are accommodated by Islamic Shari'a law. Abdel Azim is also known for his view that anyone who conspired against President Morsy was in turn conspiring against God, according to Aswat Masriya. In August, he described Morsy as the "ruling imam" and urged the nation to get behind Morsy as the president was not able to apply the law of God fully at that point.
The Independents:
Amr Moussa
Moussa is a former presidential candidate and was a longtime minister under the rule of Hosni Mubarak. In a press conference earlier this week he claimed that he does not mind if members who have withdrawn from the assembly return,  according to state-run Al-Akhbar.
However, he has also said that he may quit the Constituent Assembly (CA), since the process of drafting the constitution is still under threat. Moussa has brought up the thorny issue of underage marriage, which he said had not been mentioned in the constituent assembly because "no one would dare." He said that there is a lot of confusion and turmoil caused by the fact that most of what is being presented to the public is inaccurate and purely based on opinions.
In mid-September, Moussa was quoted by the state-run news agency MENA as saying that the constitution should have been written at an earlier stage because it regulates political life and the life of Egyptians in general.
Waheed Abdel-Meguid,
Abdel-Meguid, the official spokesperson of the CA, said on Tuesday that while there are issues which the assembly has had disagreements on, there was also dialogue, which is why there is progress in terms of overcoming the disagreements, according to Al-Dostor.
He said that discussions were held over the identity of the state to set the relationship between the country and religion, and progress was made over articles related to freedoms and rights. He added however that there needs to be more progress done with regards to women and their freedom.
Ayman Nour,
Former presidential candidate and head of Ghad Al-Thawra Party, Nour announced last weekend that he welcomes the return of several members who have withdrawn from the CA. He sent out a tweet saying that he welcomes, "their return for the struggle from inside. If we succeed, we have a great constitution, if not, then we will all withdraw together."
This came days after he said that the constituent assembly is going through a serious crisis. Part of the problem was, he said, that some of the yet-to-be-agreed articles were published on the CA's website.  This gave the impression that there are attempts by groups to hijack the constitution and impose their points of view.
Ahmed Maher
Founder and general coordinator of 6 April youth movement, Maher also welcomed the return of the four members of the CA who'd returned after having withdrawn. "The return of the four members to the CA is an important step and I hope to speed up steps to return balance to the CA and that there is an intention for a consensual constitution," he sent out in a tweet on Saturday.
He added that concluding matters by majority is fine for elections but the constitution has to come about through full consensus.
Women:
Hoda Ghaneya:
A Freedom and Justice Party (FJP) member and representative, Hoda Ghaneya is one of the six remaining women in the 100 member constituent assembly. Ghaneya has said that women participate in all committees of the assembly in order to make up for the small representation of women, though each member is obliged to participate in only one committee.
Accordingly, Ghaneya has been rather active in the constituent assembly meeting. Perhaps her most controversial statement was refusing an article in the constitution banning human trafficking.
In Ghaneya's point of view, including such an article would "hurt the feelings" of her as well as other Egyptians. Thus, if there are laws preventing human trafficking, they need not be included in the constitution.
Apart from being a member in the constituent assembly, Ghaneya was also a member in the dissolved 2011 Peoples' Assembly. She ran for the 2010 parliamentary elections, representing the Muslim Brotherhood. Ghaneya is the wife of the Shura Council and Muslim Brotherhood member Hisham Zaki Khafagi.
Omayma Kamel:
Constituent assembly member Omayma Kamel's statements reached headlines when independent daily Al-Tahrir quoted her saying that any girl who has not been circumcised suffers from "incomplete faith." Though Kamel denied having made the statement, she admitted to having mentioned that girls' circumcision is not banned by law; explaining that the 2007 law bans any violation of the human's body.
Being the president's advisor for women, Al-Tahrir also asked Kamel what she would advise Morsy in regards' to girls' circumcision. Al-Tahrir then quoted her saying that she would advise against circumcising girls before they reach puberty, adding that circumcision is sometimes considered a cosmetic operation mandatory for certain young women.
Kamel is a leading member in the Freedom and Justice Party. Besides that, she's a renowned physician and professor at Cairo University. She is also a member of the Union of Arab Physicians.
Amany Abul Fadl:
Member of the rights and freedoms committee in the constituent assembly, Amany Abul Fadl complained to the head of the assembly Hossam Al-Gheriany of the existence of international conventions, in her opinion a constant roadblock in drafting the resolution. According to Abul Fadl, her committee is being pressured to find a link between the constitution they are drafting and international conventions, especially conventions which arrive through the United Nations Economic and Social Council (ECOSOC).
A leading Muslim Brotherhood figure, Abul Fadl is also an English literature professor at Cairo University. She has published several articles, books and novels.
The Coptic Church representatives:
The Coptic Orthodox Church's representatives, which are Bishop Paul of Tanta, Moncif Naguib Soliman, and Edward Ghaleb, have been criticised for their lack of resistance to Article 2 of the constitution, which declares Islam the religion of the state and says principles of Islamic law stand as the primary source for legislation.
While a dispute ensued within the Constituent Assembly regarding whether or not the word "principles" should be struck, representatives from Al-Azhar and the Coptic Church met in late September and resolved a dispute with regards to a wide range of constitutional articles, including Article 2, with a clause allowing Jews and Christians to use their religion's laws for personal status matters.
The agreement was not supported by some of Egypt's Christians, who have pointed out the Church's laws for divorce are much more stringent than Islamic law, usually only providing adultery as justification for divorce, creating an inequality in matters of personal affairs across Egyptian population.
As Egypt's largest religious minority, the complacency of Christian members in the assembly with regards to Article 2 has further jeopardised the chances for other religious minorities to be recognised by the Egyptian government. Islam only recognises Judaism and Christianity ("heavenly religions") as the only other religions. This has led to other religious minorities such as Baha'i falling under non-sanctioned religious communities in Egypt, reinforced by the constitution's second article.